Gift ideas for Valentine´s Day from Estonian Design

Gift ideas for Valentine´s Day
from Estonian Design
What to give a woman  for Valentine's Day? While February 14 is known as Valentine's Day in other parts of the world, Estonians observe it as Valentine's Day, following the example of the Finns. Valentine's Day is a good opportunity to get in touch with your friends and give them a small box of sweets as a present. Increasingly, however, Valentine's Day is seen as a day for lovers and newlyweds spend the day on a romantic date. Many girls are looking forward to a marriage proposal from their partner on Valentine's Day.
The colour pink symbolises love Here we have picked out some pink gift ideas. We're supporting the local economy and in this blog post, we're offering gifts from local brands.
Valentine's Day gift ideas for foodies
For a sweet tooth, a handicraft bake is a delightful gift. Craft candy sets start from 9.60 € according to the quantity of candy. In addition to the chocolate candy, you can also make an even more personal gift and order stick cakes with a special message!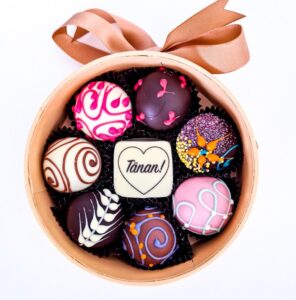 Round set "Thank you!" €16.90
www.chocelite.ee
Comic set with 8 truffles, beautiful and strong round box with ribbon.
Net weight 160g. 100% handmade, no preservatives added.
One truffle can have a personal message written on it. All our truffles and pralines are made from natural, fresh ingredients (cream, butter, nuts, berries, etc.) and are allergen free.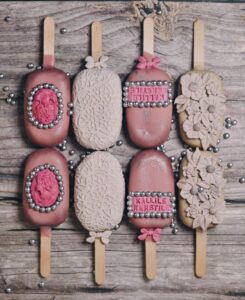 Ice-cream shaped stick cakes 8 pcs 28€
https://www.facebook.com/suhkrususlik
Available in 7 different flavours.
Confectionery will make you a sticky cake with a personalised message*.
and you can design your own stick cakes with the colours and elements you want.
Place your order in good time.
Valentine's Day gift ideas for romantics
One very cute gift idea is to give a girl a wonderful parfumed candle. Many Estonian companies produce scented candles in romantic packaging and with different fragrances. Some examples: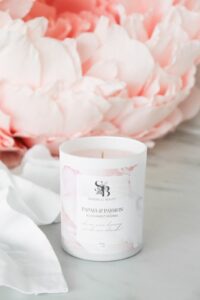 "PAPAIA & PASSION" €15,50
sandrellebeauty.ne
When creating this candle, our biggest wish was that it would not only be an aromatherapy but also a beautiful home accessory and a lovely gift for your loved ones – that's why we have involved the artist Anneli Akinde in the creation process, who is the author of the design of our delicate and feminine fairy tale.
The candle burns for about 48h, and when lit the wax starts to shimmer in a gentle, pearly way.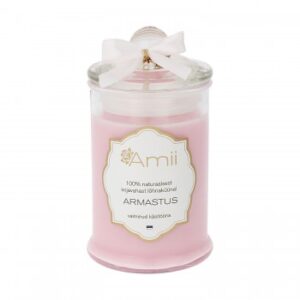 "LOVE" 8.60€
https://amiicandles.ee/
Warm leather scented candle "Love"
Romantic, rosy rosy, freshly sweet and softly gentle.
Net wt 110 g
Burn time approx. 22 h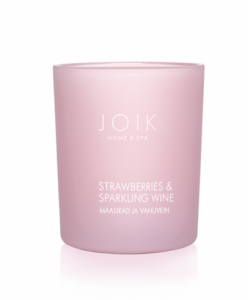 " Strawberries and sparkling wine " 11,90 €
https://joik.ee/
A romantic and luxurious classic – cold sparkling wine and fragrant juicy strawberries. White flowers, hyacinth, hibiscus, sandalwood and cider wood aromas in the sparkling aroma. It is enveloped by a rich aroma of ripe strawberries. A fragrance that appeals to the senses.
Candle burn time 30h.
What cosmetics to give for Valentine's Day?
Women like to adorn themselves with decorative cosmetics and pamper themselves with different body care products. However, if you don't know your skin type and preferences, we advise you to avoid buying decorative cosmetics.  When choosing cosmetics and skin care products, it is worth considering the raw materials to avoid chemicals and allergic reactions. Natural cosmetics are the risk-free choice.
A few gift ideas from some of the biggest natural cosmetics manufacturers in Estonia: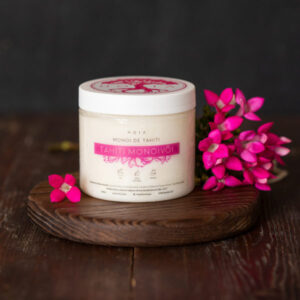 Mono butter 21,90 €
www. hoia.bio
Mono butter is a divine orchid-scented butter from Tahiti, Polynesia, made from coconut oil and Tiare flower petals. Mono butter is a particularly good sunburn soother, softening and deeply moisturising the skin and leaving it pleasantly scented.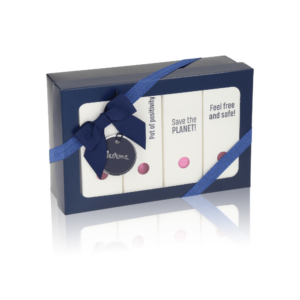 "SKINFOOD" €21.56
www.nurme.eu
The perfect gift for the woman who wants to be good to herself and to nature. Packaged in a beautiful gift box, it is a quick, convenient and practical gift idea. The gift set contains enchanting scented products that turn a skincare ritual into a true aromatherapy experience. All products contain 100% natural essential oils and natural ingredients.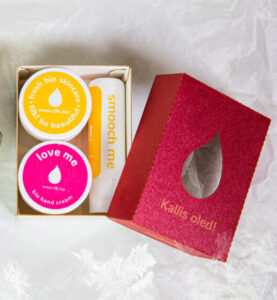 "You're so dear!" set 15.90€ – 17.90€
www.tilk.bio
"You're so dear!" is a special combination that makes the perfect gift for a dear friend. This set is both the perfect travel companion, as it is made up of travel-friendly products, and at the same time it is a great way to try out different of our products to find your favourites! In the kit you'll find some lovely skin moisturisers for both face and hands.
What kind of flowers to give for Valentine's Day?
While the traditional Valentine's Day flower is the red rose, alternative and more artistic symbols such as tulips, daffodils, poinsettias and carnations are becoming increasingly popular. Unfortunately, however, transporting flowers around the world is not the healthiest option for our planet.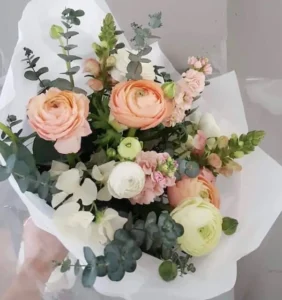 But if you wish to send the most beautiful bouquet from Estonian flower designer then here is one reccomendation for you.
Seasonal bouquet by Studio Nelk
29.00€ – 79.00€
A gorgeous Seasonal Bouquet by Studio Nelk , created with carefully chosen mix of blooms, gathered together into a lovely handtied bouquet, which will be beautifully presented in our signature style.
Delivery in Tallinn 5.- and Harju county 10.- Order from Monday to Saturday by 2 PM for same day delivery.
Accessories with peony pattern as a gift
Timely and environmentally friendly decisions are more important than ever. Consequently, the perfect alternative to a flower as a gift is a wallet, scarf or even an umbrella with a peony pattern.
Known in Chinese mythology as a sign of love and abundance, it's hard to find a more apt Valentine's gift. It's nice to think that your talisman goes with you every day, even in the rain!
Valentine's Day gift ideas from the LOVÉN range
value less than 50 €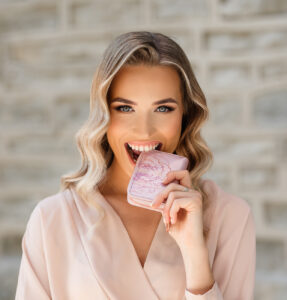 Small wallet in lavender pink "Lotus" with gift box  €39.00 VAT
www.lovendesign.eu
Elegant eco-friendly wallet that fits into your handbag
This beautiful eco-friendly wallet in pink is a pleasant compromise if you're looking for wallet that's not too big, nor too small. Fits enough cards and cash for your day-to-day needs.
Comfortable size for any handbag. This cute little purse with a peoney pattern is made from recycled faux leather and is eco-friendly.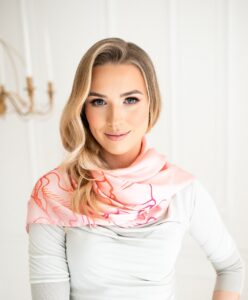 Satin Silk Pink Scarf "Lady Liberty"80×80 with giftbox  €49.00 VAT
www.lovendesign.eu
Explore the world in style like never before thanks to our exquisite satin silk scarf and you'll never want to leave home without it. Whether it's the vibrant choice of colors, quality of the silk, or the iconic look of the peony print, you'll find something that catches your eye from the moment it arrives. Just what you need when nothing but the finer things in life will do.
Valentine's Day gift ideas from the LOVÉN range
value less than 60 €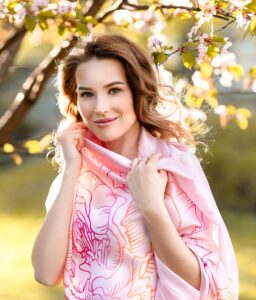 Pink scarf 180×70 "Sundae"  €55.00 VAT
www.lovendesign.eu
Gorgeous feminine scarves made with the environment in mind! Through its enchanting and timeless design, we aim to inspire people to wear products made from recycled materials. This silky and soft scarf is made of recycled plastic. It takes 4 plastic bottles to produce one scarf.

Multipurpose Bag "Rose" €59.00 VAT
www.lovendesign.eu
Lightweight Waterproof Bag For All Your Outings
Looking for multifunctional bag? This trolley sleeve Tote Bag is a good buy for every shopper and traveler. Its 3 independent carrying compartments with enough alternatives. It sleekly fit with lightweight makes it for an excellent carry-on luggage. This is universal best friend for your any occasion. Use this bag as travel bag, as sports bag, as shopper bag!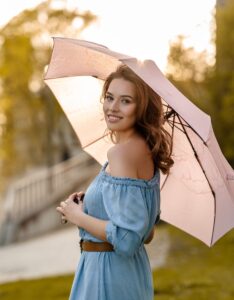 Pink Umbrella "Lorelei" UV protection €54.00 VAT
www.lovendesign.eu
If umbrella would be peoney flower then this is it!
All good qualities in one umbrella. This waterproof, attractive wardrobe accessory has three folding section to compact it to the size of a small clutch and comes with an elastic wrist strap for easy carrying!  The fully automated handle is rubber coated for better grip in wet weather.
Pink Large Wallet "Pecher" €64.00 VAT
www.lovendesign.eu

According to Feng Shui pink wallets are lucky with love!
Additionally with this large wallet You can't run out of space for your cards with its 14 separate card slots. Wallet fall probability greatly reduced with its grip-textured sides and wrist strap for a easy and firm hold. A truly super-nice gift for yourself.
Estonian Design jewellery as a Valentine's Day gift
Diamonds are a girls best friend may be true, but it's perhaps a little out of date. To compete with diamonds, we found much more heartfelt and personal alternatives.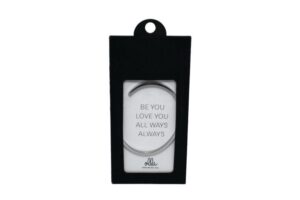 Be you. Love you. All ways. Always.  24.95 €
www.ollabangles.com
All bangles are adjustable. Just bend the bangle to fit your size. Don't worry, it won't break.
Our bangles are made of stainless steel and are scratch resistant. They do not contain nickel and are allergy-free.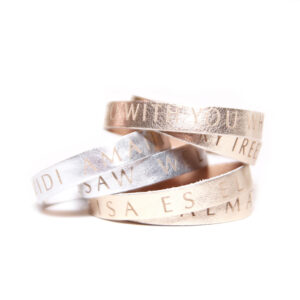 New Vintage BY Kriss
"I got something to say"
35.00 € – 44.00 €
https://nvbyk.com
Wristbands with different edgy messages.
The wristband is available in 5 different colours, and
a large selection of messages that can be engraved on the ribbon.
The bracelet comes in a signature gift box.
Pink quartz jewellery for women
This is a crystal of unconditional love. The universal love crystal, was created to help you express yourself more boldly and attract love and joy. Pink quartz is the stone of the heart and the centre of love. A love crystal is the perfect gift for Valentine's Day.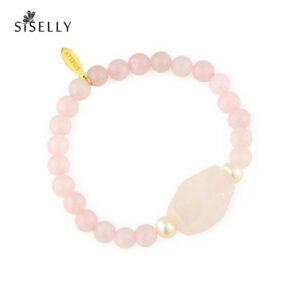 Bracelet "Pink quartz and pearl" 16.90 €
siselly.com
This Pink quartz is the stone of unconditional love and endless peace. It teaches the true nature of love, it cleanses and opens the heart on all levels and brings deep inner healing and self-love. It is calming and reassuring, which is great in times of trauma or crisis. Pink quartz attracts new love and in existing relationships it restores trust and harmony. Also gently removes negative energy and replaces it with loving vibrations.
Pearl is a crystal of innocence and a pure heart. It helps you to accept yourself and be honest with yourself. Pearl stimulates feminine values – sexuality, wisdom, purity, fidelity and virtue. It helps to control the emotions and focus the mind.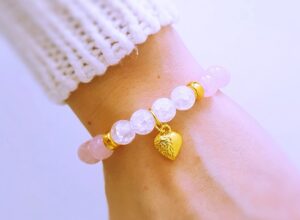 Valentine's Day Special – Pink quartz with golden heart 13,90€
https://mirsii.ee/
A lovely gift for your girlfriend, sister, sweetheart! Symbolizes unconditional love, attracts kindness and has a calming effect.
The bracelet features 8mm pink quartz beads and a bittersweet rock crystal, a few gold metal beads and a beautiful gold heart. The bracelet is on an elastic cord.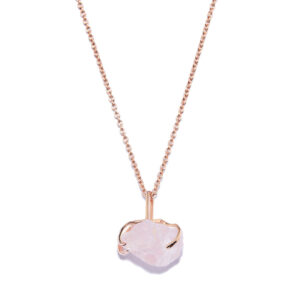 Big Stone necklace in pink gold
and pink quartz €69.00
www.monafi.ee
A unique unpolished large crystal and a fine-lined metal chain create an incomparable combination. Big Stone necklaces can be combined with any outfit. With its timeless style, it's a staple accessory in your wardrobe and you won't be disappointed.
METAL: brass plated in 14K rose gold.