Valentine's Day traditions and interesting facts
Valentine's Day traditions and interesting facts
Did you know that the first Valentine's Day card was sent back in the 15th century? Or that there are three patron saints named after St Valentine? Did you know that the first heart-shaped chocolate box was created in 1861?
Valentine's Day has a long history and many legends. While in other parts of the world 14 February is known as Valentine's Day, Estonians observe it as Valentine's Day, following the example of the Finns. In addition to the Nordic countries, the celebration of 14 February is widespread in the United States, England, the Philippines, Australia and many other countries.
History of Valentine's Day
Celebrations in Old Rome
The tradition of celebrating Valentine's Day dates back to the Roman Empire. It is believed that Juno, the goddess of marriage, childbirth and women, was remembered on 14 February. But more than the goddess's feast, the Lupercalia celebration, which took place at the same time, was more eagerly awaited.
Although the Lupercalia festival is now associated with Valentine's Day, in ancient Rome it was far from a celebration of giving flowers and chocolate. Instead, goats were sacrificed and women were whipped with bloody dragon skins. As women often got naked for the occasion, the celebration had an erotic air.
Arguably the most anticipated part of the festival was the proposal of marriage, which allowed you to draw lots to find the name of the mate you would be paired with for the day. Often this adventure ended in love and even marriage.
Day of Love in France
With the intention of Christianising the festival, Pope Gelasius designated 14 February as St Valentine's Day. In the 15th century, Valentine's Day in France became a day for spreading love. From there, the celebration of the feast spread like wildfire around the world.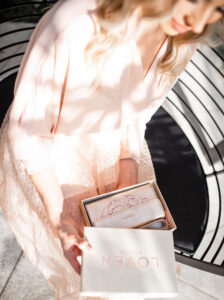 Valentine's Day in the world
Today, Valentine's Day is celebrated globally. But Valentine's Day doesn't look the same everywhere.
South Korea
In South Korea, Valentine's Day is a time for women to give men chocolates. After a month in April, the men give the women sweets in return. But that's not all! On the fourteenth of April, unmarried friends get together to celebrate their relationship status by eating black noodles.
Denmark
Instead of red roses, Danish Valentine's Day presents include snowdrops. Local men also send anonymous poems to women. If the recipient of the letter can guess the sender, the man has to give her an Easter egg within a year.
France
As the city of love, Paris is a particularly popular destination in mid-February. As a result, Paris is often called the capital of Valentine's Day. It is customary for couples in love to attach padlocks to the Pont des Arts, or Bridge of Love. Once locked, the key is thrown down into the River Seine.
All the locks on the bridge were removed in 2005. The railings were then replaced with ones that are almost impossible to padlock. The reason for removing the locks was safety – the millions of locks were eventually equal to the weight of 20 elephants!
Wales
In Wales, instead of a day of love, St Daynwen's Day is celebrated on 25 January. To commemorate the patron saint of lovers, men present women with hand-carved wooden spoons. The tradition dates back to the days when Welsh sailors used to make wooden spoons for their wives while at sea.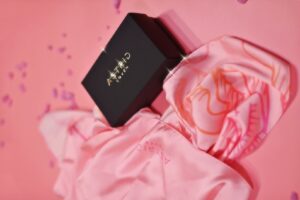 Valentine's Day in Estonia
In Estonia, 14 February is celebrated as Friendship Day, following the example of our Nordic neighbours. As early as the end of the 1980s, schools and kindergartens started sticking hearts on each other's foreheads. Valentine's Day parades were also held and letters of friendship were sent.
Nowadays, the gift of flowers is common. While the traditional Valentine's Day flower is the red rose, alternative and more artistic symbols such as tulips, daffodils, poinsettias and carnations are becoming increasingly popular. Unfortunately, however, transporting flowers around the world is not the healthiest option for our planet.
Valentine's Day gift ideas for women from LOVÉN brand
Timely and eco-friendly decisions are more important now than ever. Consequently, the perfect alternative to a flower as a gift is a purse, scarf or even an umbrella with a boy's image. The poinsettia is known in Chinese mythology as a sign of love and abundance, making a more fitting Valentine's gift hard to find. It's nice to think that your talisman goes with you every day, even in the rain!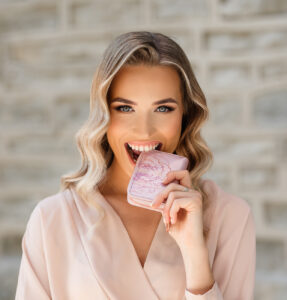 Small wallet in lavender pink "Lotus" with gift box  €39.00 VAT
www.lovendesign.eu
Elegant eco-friendly wallet that fits into your handbag
This beautiful eco-friendly wallet in pink is a pleasant compromise if you're looking for wallet that's not too big, nor too small. Fits enough cards and cash for your day-to-day needs.
Comfortable size for any handbag. This cute little purse with a peoney pattern is made from recycled faux leather and is eco-friendly.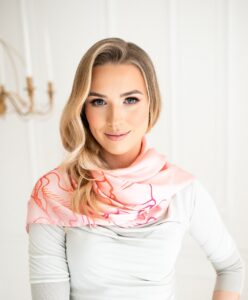 Satin Silk Pink Scarf "Lady Liberty"80×80 with giftbox  €49.00 VAT
www.lovendesign.eu
Explore the world in style like never before thanks to our exquisite satin silk scarf and you'll never want to leave home without it. Whether it's the vibrant choice of colors, quality of the silk, or the iconic look of the peony print, you'll find something that catches your eye from the moment it arrives. Just what you need when nothing but the finer things in life will do.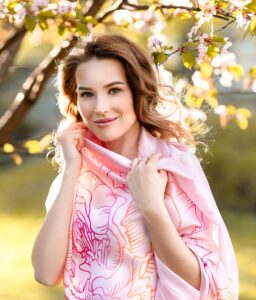 Pink scarf 180×70 "Sundae"  €55.00 VAT
www.lovendesign.eu
Gorgeous feminine scarves made with the environment in mind! Through its enchanting and timeless design, we aim to inspire people to wear products made from recycled materials. This silky and soft scarf is made of recycled plastic. It takes 4 plastic bottles to produce one scarf.

Multipurpose Bag "Rose" €59.00 VAT
www.lovendesign.eu
Lightweight Waterproof Bag For All Your Outings
Looking for multifunctional bag? This trolley sleeve Tote Bag is a good buy for every shopper and traveler. Its 3 independent carrying compartments with enough alternatives. It sleekly fit with lightweight makes it for an excellent carry-on luggage. This is universal best friend for your any occasion. Use this bag as travel bag, as sports bag, as shopper bag!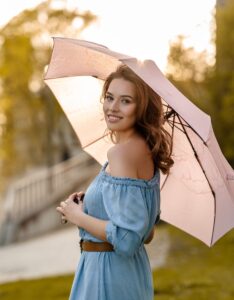 Pink Umbrella "Lorelei" UV protection €54.00 VAT
www.lovendesign.eu
If umbrella would be peoney flower then this is it!
All good qualities in one umbrella. This waterproof, attractive wardrobe accessory has three folding section to compact it to the size of a small clutch and comes with an elastic wrist strap for easy carrying!  The fully automated handle is rubber coated for better grip in wet weather.
Pink Large Wallet "Pecher" €64.00 VAT
www.lovendesign.eu

According to Feng Shui pink wallets are lucky with love!
Additionally with this large wallet You can't run out of space for your cards with its 14 separate card slots. Wallet fall probability greatly reduced with its grip-textured sides and wrist strap for a easy and firm hold. A truly super-nice gift for yourself.