Women's Day – what to get for women?
Women's Day – what to get for women?
Women's Day is coming up and to celebrate, we give you some gift ideas to surprise your lovely ladies.
On Women's Day, it's tradition to give flowers to colleagues and friends. But why not surprise your closest women and loved ones with beautiful gifts. Give women flowers, but give flowers that won't wilt!
LOVÉN Design products are adorned with a peonies pattern, a beautiful symbolic flower that will adorn the recipient for more than a few weeks. The poinsettia itself is a symbol of love and abundance. What could be a better gift than a wonderful feminine accessory for your dear one!

Beautiful wallets for women
For the woman who prefers a small wallet, we recommend these lovely wallets from the LOVÉN wallet collection.
The wallet has 6 card pockets and a tiny cigarette pocket. The wallet is made from recycled faux leather and is packaged in a beautiful gift box.
Available in 6 different colours: black, lavender-pink, gold, brown, pink and blue.
You can see the available range here.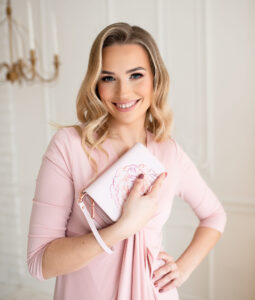 Women's wallet with RFID protection
This spacious wallet keeps all the cards you need protected together. RFID protection is a good solution if you have a lot of contactless cards. The wallet has 14 separate card pockets and a mobile phone pocket with a lock. In addition, there is a wrist strap for easy use.  The wallet comes in a gift box. Available in black and pink. You can see the available range here.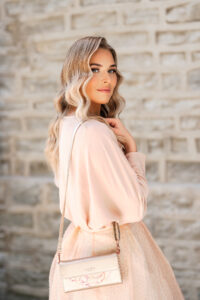 The wallet women desire!
If you are looking for something very special and beautiful then we have a 3in1 wallet for you. This 3in1 wallet is a wallet, shoulder bag and belly bag in one. In addition, the set also includes a separate card pocket with a lock. The card pocket can be used completely independently. A product that is universal yet practical. Made of recycled leatherette and packed in a beautiful box.
Available in six different colours: black, gold, grey, pink, blue and brown. Click here to see the selection.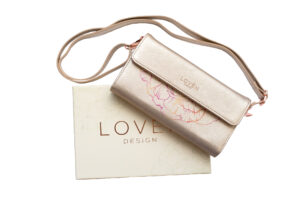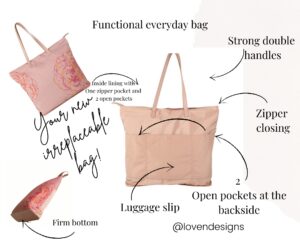 Design handbags – functional and practical!
If you are looking for a practical but beautiful bag, then this bag is just for you. This unique everyday bag is made from recycled materials. The bag is decorated with a pattern of peonies that does not fade over time. A bag that can be used for many different purposes: a shopping bag, an everyday shoulder bag, a training bag, a baby bag and as a travel bag & weekender. This shoulder bag has open pockets at the back and an opening for attaching a suitcase. A very convenient solution when traveling with a suitcase. The bag can also be washed lightly with a cloth. Available in several different shades. Check out the selection here.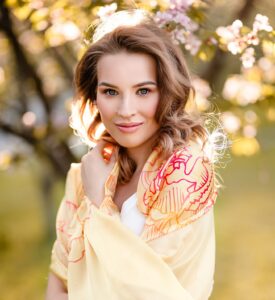 Silk scarf for women
Every year, 380 million tonnes of plastic are produced, 50% of which is used for just a few minutes and then thrown away.
Less than 9% of plastic is recycled We have discovered a wonderful new material and that is recycled plastic bottles.
  You might think that this material is in no way comfortable to wear, but quite the opposite. These silky and soft scarves have a light sheen and are very luxurious. It takes 4 plastic bottles to make one scarf! The scarves are available in a total of 4 colours.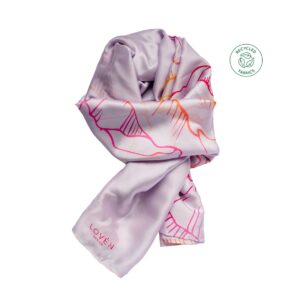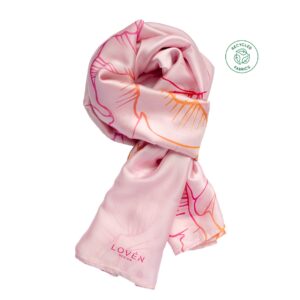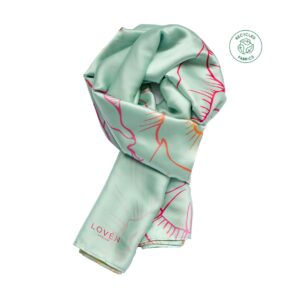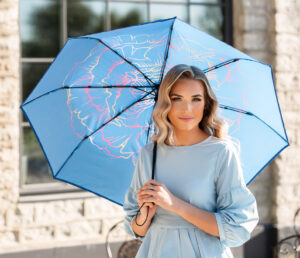 High quality umbrellas with a flower pattern
"Dear, I protect you from rain and wind, wherever you go" would be a suitable text for a gift card if you give your loved one a LOVÉN fully automatic and high-quality umbrella. There are two types of umbrellas in the LOVÉN umbrella range. One category is lighter shades and UV-protected umbrellas, which are more suitable for summer. The second category is darker umbrellas with a reflective strip and are intended for autumn-winter use.
What could not be a more beautiful gift than a quality umbrella for your loved one ?! Here.